We are already well underway into January, 2019, and with the New Year comes a time to reflect on the past year, and set goals for the year to come. Walk On, Victoria had a busy 2018, and already planning exciting things for 2019.
Every year, our Steering Committee has a Strategic Planning session, where we reflect on our achievements and challenges, and determine our organizational priorities.  Our 2018 Strategic Plan is found here. Below is a summary of what we achieved in 2018 based on the goals set out in the Strategic Plan.
Goal: Build Relationships
Worked with coalition of active transportation groups (Victorians for Transportation Choice) on municipal election candidate survey
Met with neighbourhood associations to discuss pedestrian initiatives
Built relationships with media (e.g. CBC Ratio, CFAX), and are a go-to for media on pedestrian issues
Goal: Political Advocacy
Advocacy resulted in positive results for pedestrians on projects: Johnson St. Bridge pathway (pictured), Wharf St. design, Humboldt/Government intersection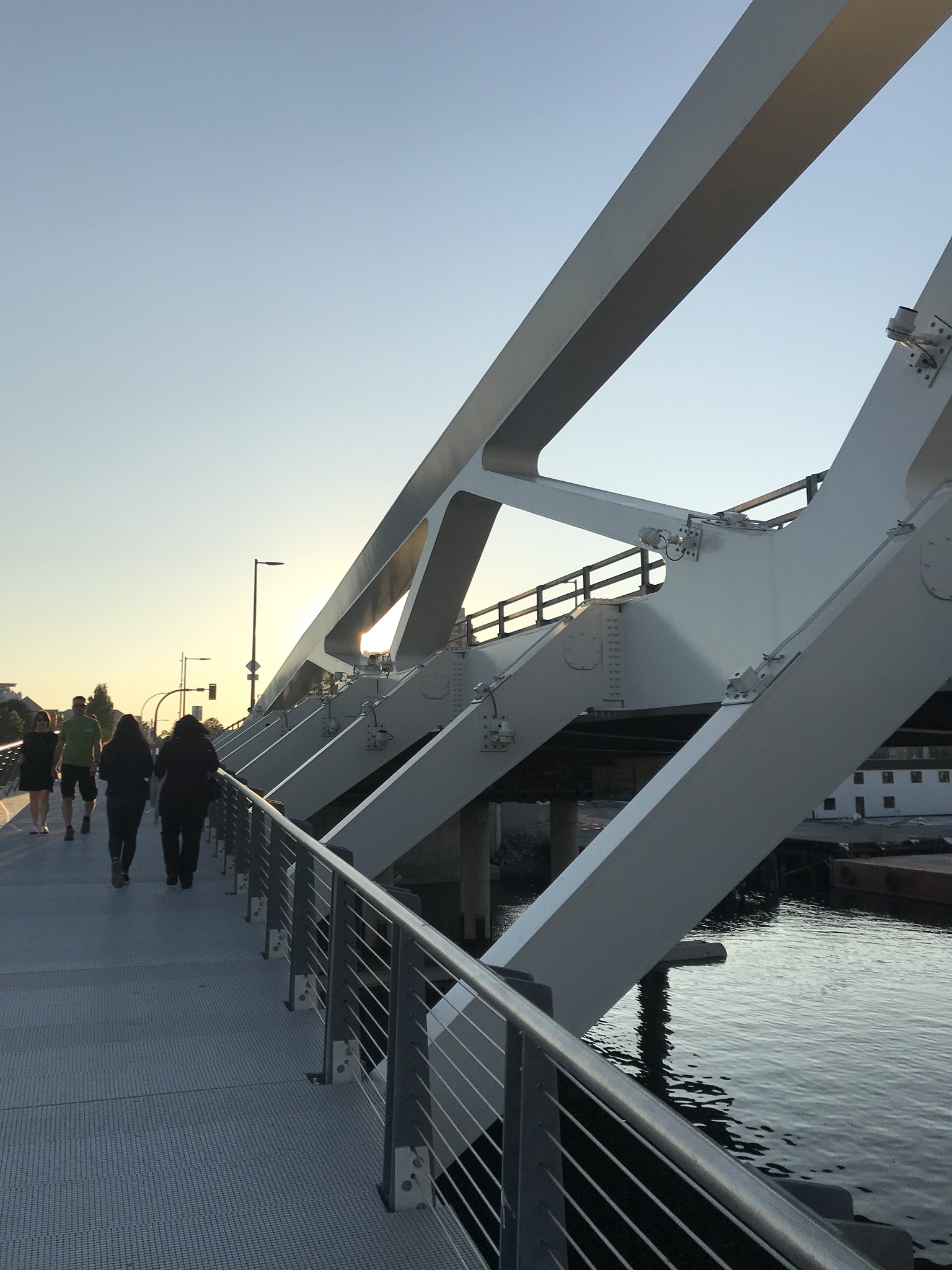 Started "thank you letter of the month" to reward positive pedestrian projects. Letter sent to City of Victoria (Johnson St. Bridge) and acknowledged by mayor and council
Sent letters to all municipal councils in Greater Victoria to introduce Walk On, Victoria
Provided input on City of Victoria 2019 strategic plan, which resulted in pedestrian issues being added to draft plan (e.g. Pedestrian Master Plan implementation)
Increased legitimacy in the community as the voice for pedestrians through continued advocacy work (E.g. recognized by New Westminster pedestrian advocacy group).
Governments are reaching out to Walk On, Victoria (e.g. Provincial Ministry of Transportation) for input on pedestrian issues.
Goal: Expand membership and representation
Recruited new Steering Committee Chair
Increased presence on social media. Total followers/members:

Twitter: 791 followers
Facebook: 247 members
Mailing list:444 members
Goal: Engage with Followers
Posted on Twitter at least 1x/ week, re-tweeted articles and information from other groups/individuals
Posted on Facebook at least 1x/month
Sent 4 newsletters in 2018 (January, April, July, October). 38-49% of readers opened the newsletter
Participated in 3 media interviews (radio)
Sent out member survey (77 responses) on walkability and sent results to City of Victoria Council
Goal: Walkability is a campaign issue during the 2018 local election
Worked on and sent out Victorians for Transportation Choice municipal election candidate survey
Members attended candidate meetings and debates to engage on walkability issues
Sent newsletter to members to encourage them to think about walkability issues when voting
Goal: Promote walkability and health benefits in the region
Members participated on City of Victoria and Saanich active transportation committees
3 Steering Committee members hosted Jane's Walks
Hosted movie night during Jane's Walk with Victoria Placemaking
Hosted 2 theme walks during Walktober
Researched health organizations/exiting health campaigns
Event: Jane's Walk
3 Steering Committee members hosted Jane's Walks
Hosted movie night during Jane's Walk with Victoria Placemaking (Jane Jacobs documentary)
Promoted events through social media and newsletter
Event: Car Free Day
Surveyed public about what makes Victoria walkable and what needs improvement
Sent results of car free day survey (and email survey) to City of Victoria council.
We are looking forward to an even more exciting 2019!